2020-04-28 19:05:14
Ready to ship again all over the world.
2020-03-24 13:40:41
Coronavirus emergency
2019-11-21 19:25:40
New items from Utrecht
Nick Drake
Bryter Lather
UK original on Island, very clean cover and super clean disc!! Great Copy!! ex+/m-
Price: €430
Patto
Hold Your Fire
UK original flaps cover swirl Vertigo. GREAT COPY!
Price: €850
Kornelyans
Not An Ordinary Life
Fantastic 1974 Yugoslavian original on RTB of this great Yes/Camel oriented progrock LP. Sung in English! Hard to find in better conditions.
Price: €90
Rare archive
Top 100 rare chart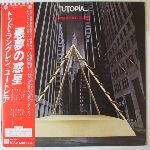 Utopia
Oops! Wrong Planet
Japan original with OBI and insert.
Price: 40€
Browse all latest entries